Where is the best place to stay in Morocco? Stay in this amazing out of town eco-lodge, near Ouarzazate in the Moroccan desert. A secluded paradise with its own gardens, tucked into the hills of Morocco. This peaceful ecolodge in Morocco's dessert will not disappoint!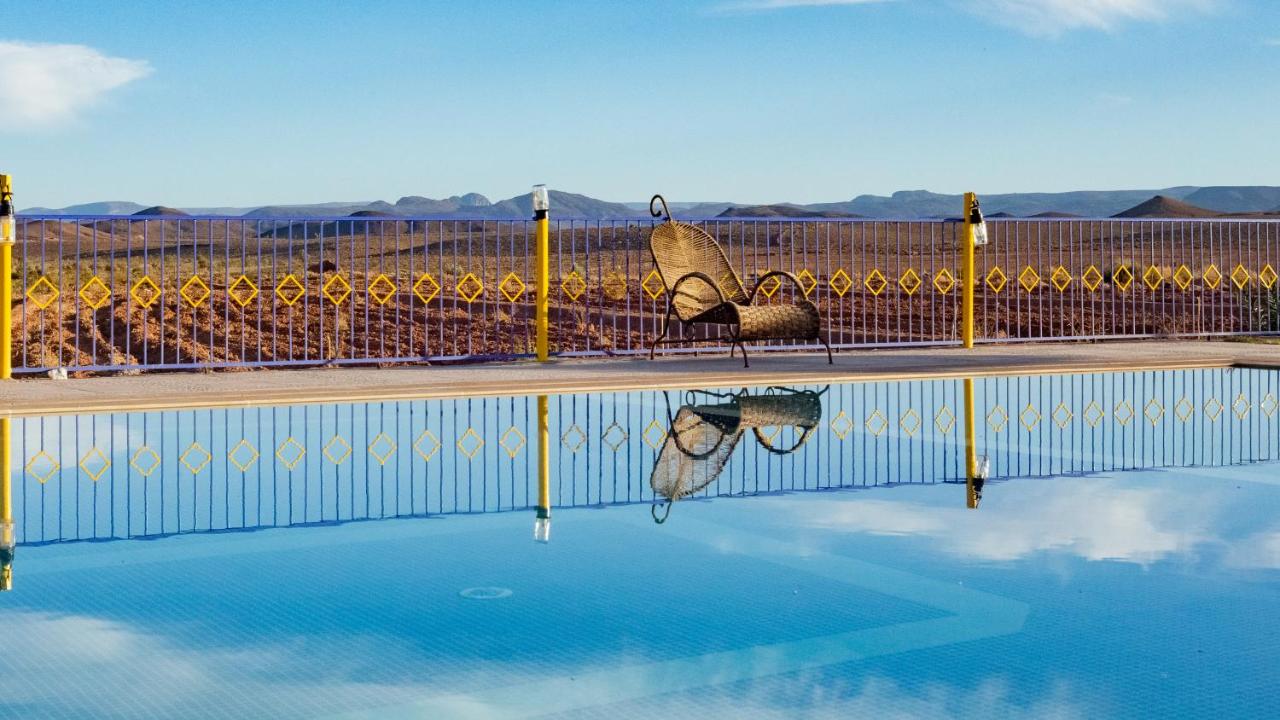 An Ecolodge In Morocco's Desert
Sustainable and ethical practices are something we value highly and the moment I learned about 'Eco-Tourism', I became fascinated with methods of achieving environmental wellness. Green tourism, eco-tourism or responsible tourism as it's sometimes known revolves around making sustainable choices that reduce the impact on the planet.
So when I started planning our youngest daughter's trip to Morocco for her birthday, I knew we had to make this trip into the desert to stay here. In my opinion, it's one of the best places to stay in Morocco and not that far from Marrakech.
It's changed a lot since we first stayed and they've been able to add a pool.
Where Is This EcoLodge?
On the outskirts of Ouarzazate, nearly four hours south of Marrakech and five hours east of Agadir lies the L'ile Ecolodge.  It is on the edge of the desert where the local land is pale, flat and a combination of sand and stone.
Although the valley is baron and flat, the entire areas is surrounded by a ridge of mountains. These weren't particularly visible when we went due to the low winter cloud but in the summer you can see the Atlas mountains surrounding the ecolodge.
<<Check Out Prices And Availability Here>>
Traditional Berber Houses
There are eight individual, traditional Berber houses built on-site that each accommodates between one and six people.
Bricks made with mud, sand and straw (sometimes animal dung) are laid out in the sun to dry. They are then stacked on top of a stone foundation and covered with mud and straw plaster.
Berber houses are usually rectangular and the doorways face 'Qibla' – an Arabic word that describes the direction one faces towards Mecca at prayer time. The word Qibla also refers to a doorway that faces east. The east-facing door is seen as 'Qabel' –  honourable and looks too the future, the morning.
The windows are typically small and only allow a small amount of light in. This keeps the heat out and the cool in. Ceilings are often made with bamboo stalks, the trunks of olive trees and covered with rocks and more mud plaster.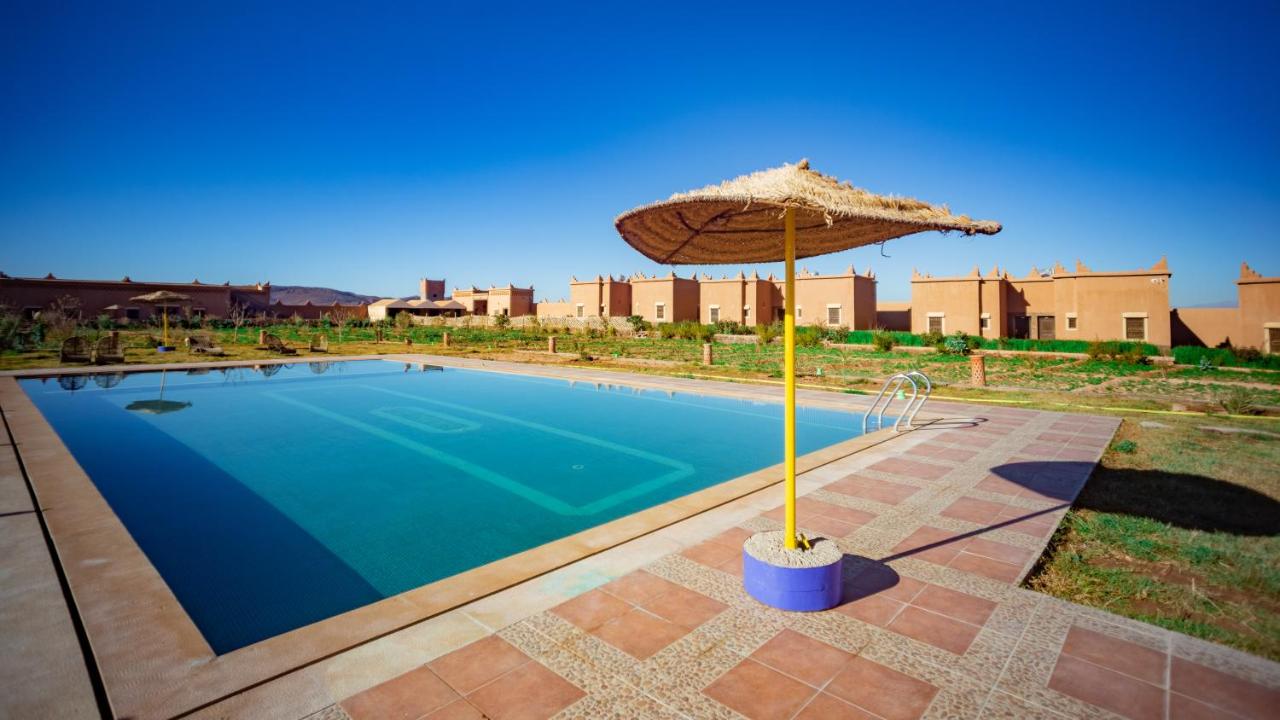 Berber Rugs In The Ecolodge
Traditional Berber rugs can be seen in the rooms and on the floors of the Berber tents.
The origin of carpet weaving by the Berber populations dates back several millennia. Hand-woven from the hair of goats and sheep, they are used to decorate walls and floors as well as keep the dust levels down.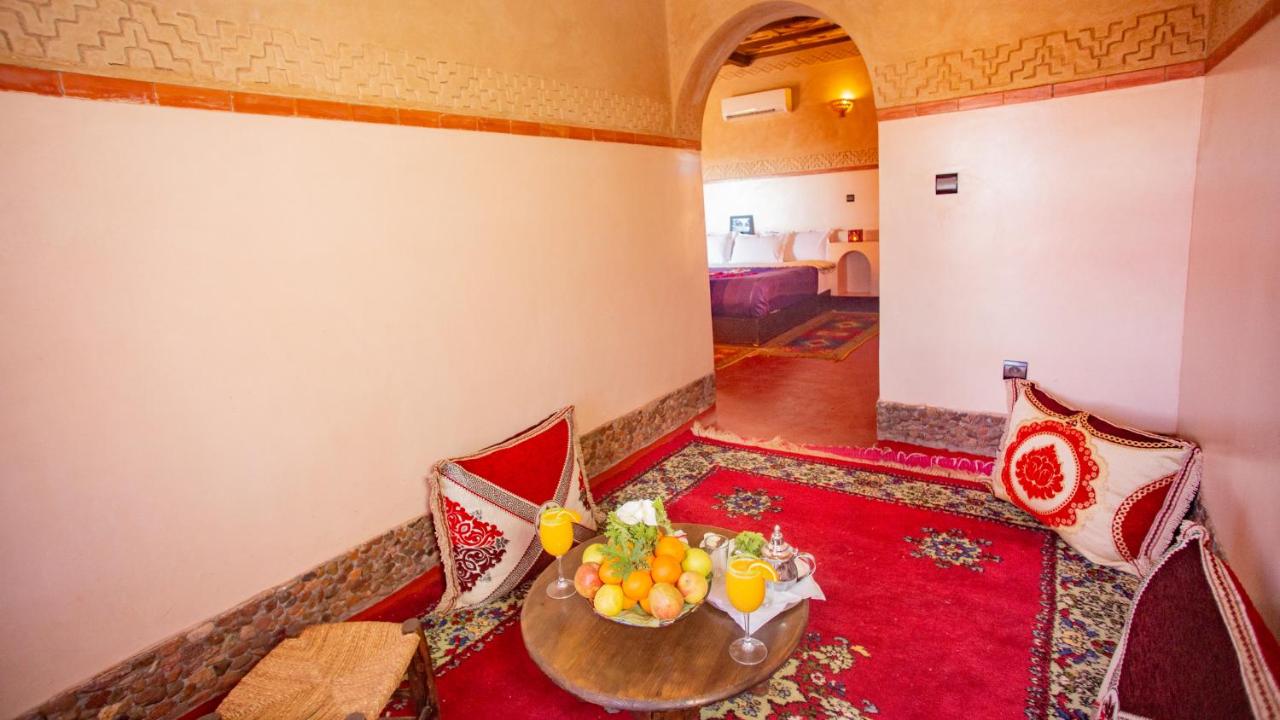 Spend Your Evenings Listening To Music
There are two Berber tents within the walls where we sat and drank mint tea.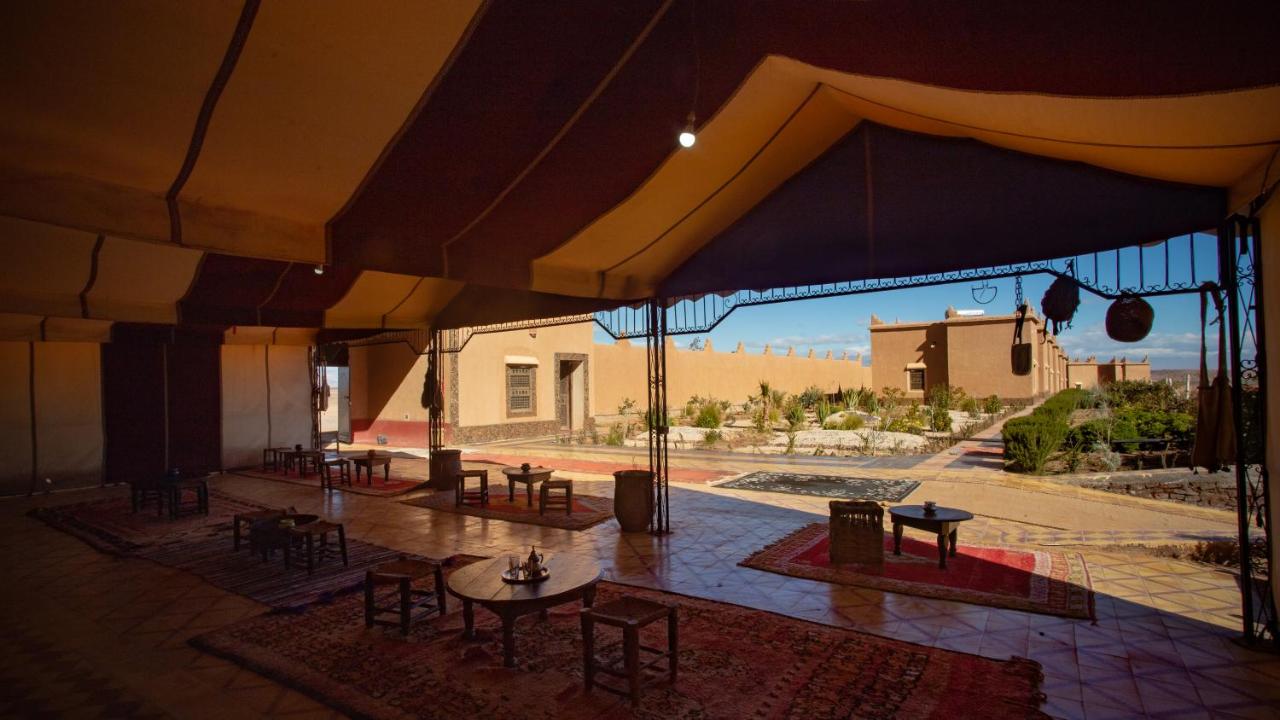 Electricity From Solar Panels
The electricity at the Ecolodge is created entirely by solar panels.  Interestingly to save more electricity, each light had its own separate switch. Something I've not seen before and I thought it was a great idea. That way the lights don't drain the solar battery.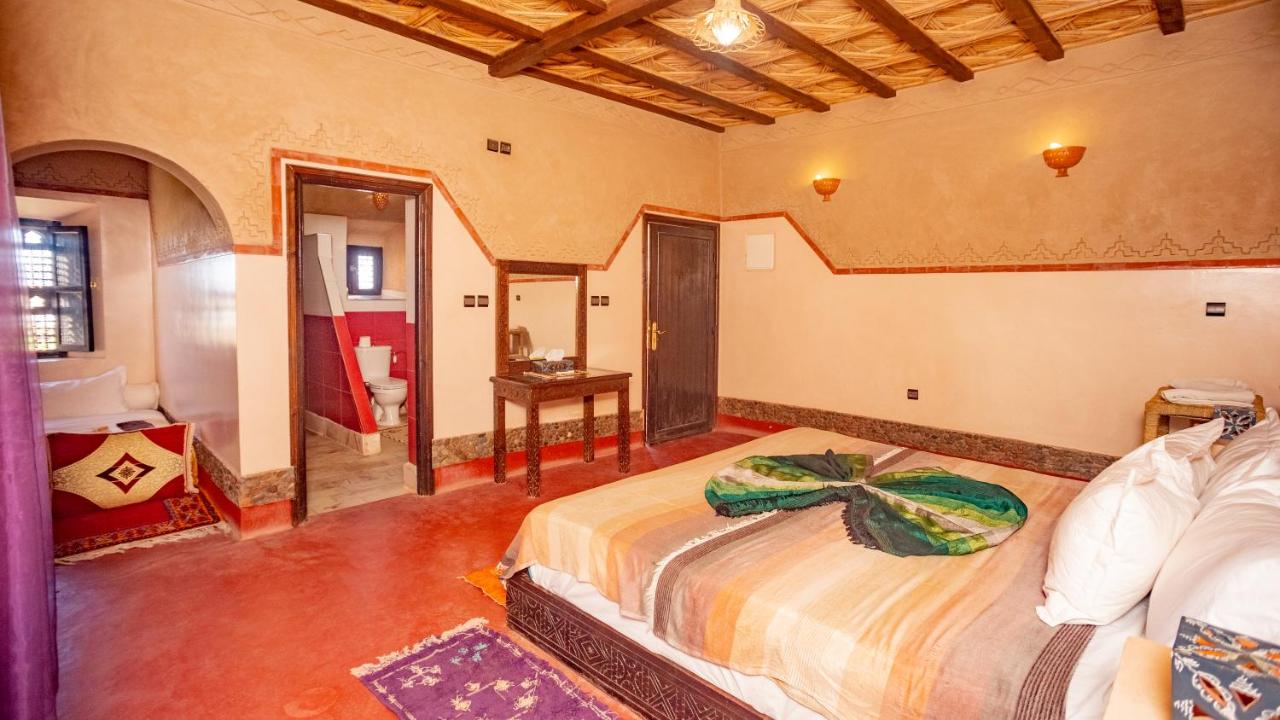 You Will Eat From The Bio Garden
The bio garden is carefully tendered by a gardener and it's reported that the vegetables and meals prepared are from the kitchen gardens.
Breakfast comprised of orange juice, Msemen pancakes which are made from semolina flour and served square, honey, jams, olive oil, cake and mint tea. The first night we stayed at the lodge there were a large number of other people staying and breakfast was really jovial and provided on a serve yourself basis.  On the second day, we were one of only two families staying and breakfast was served to our table.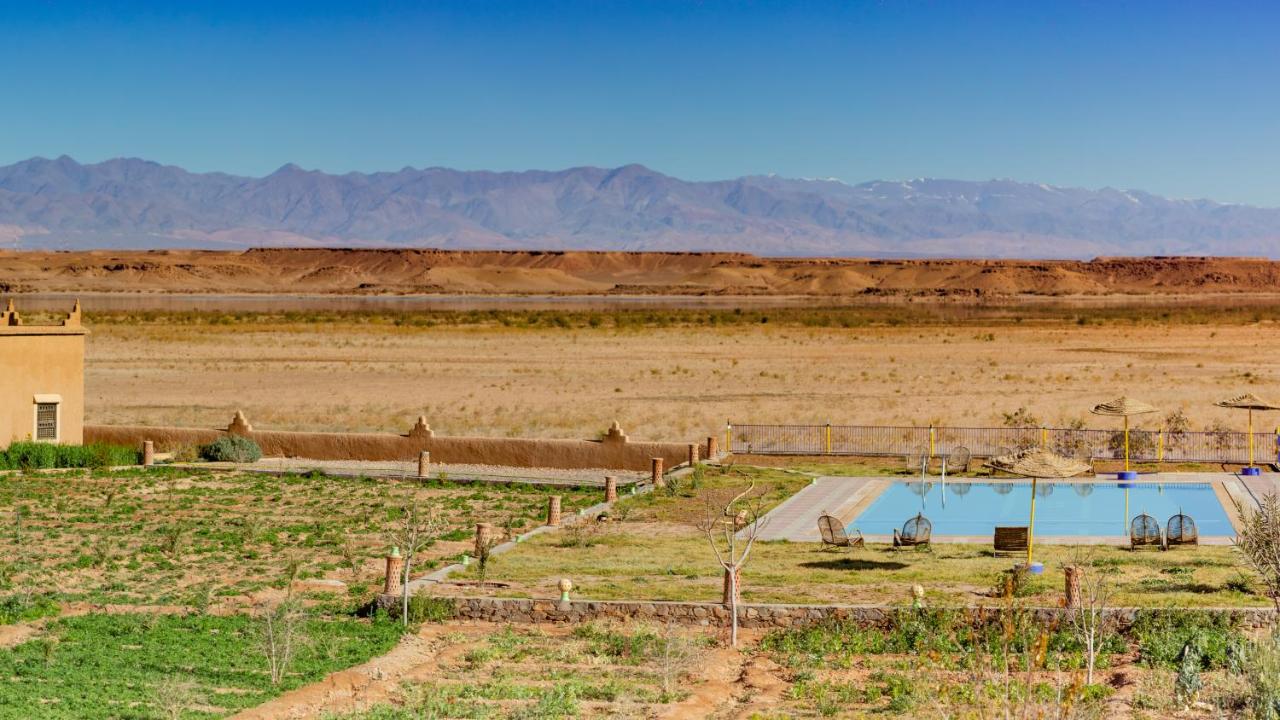 There Were Peacocks OnSite
There's a range of wildlife that live on the premises including doves, peacocks, peahens, guinea fowl, chickens, a turkey, rabbits and a donkey.
The peacocks, peahens and guinea fowl are allowed to wander freely but the other animals are caged or tethered.
Will You Sing Around The Camp Fire
After dinner on our first night, we were invited around the campfire to join in with Arabic drums and singing.  I should have really taken a video because they were so good.
 Look Up To The Stars
There was quite a bit of cloud when we visited (in February!) and although some stars were visible to the eye, they sadly weren't as good as at Hamilton Island.
We'll just have to go back when it's less cloudy!
Barrage El Mansour Eddahbi
The ecolodge is situated directly next to the Barrage El Mansour Eddahbi. It was the height of winter when we visited so we didn't make the most of the lake (which is actually a reservoir dam). In the summer months, you can canoe here and spot birds.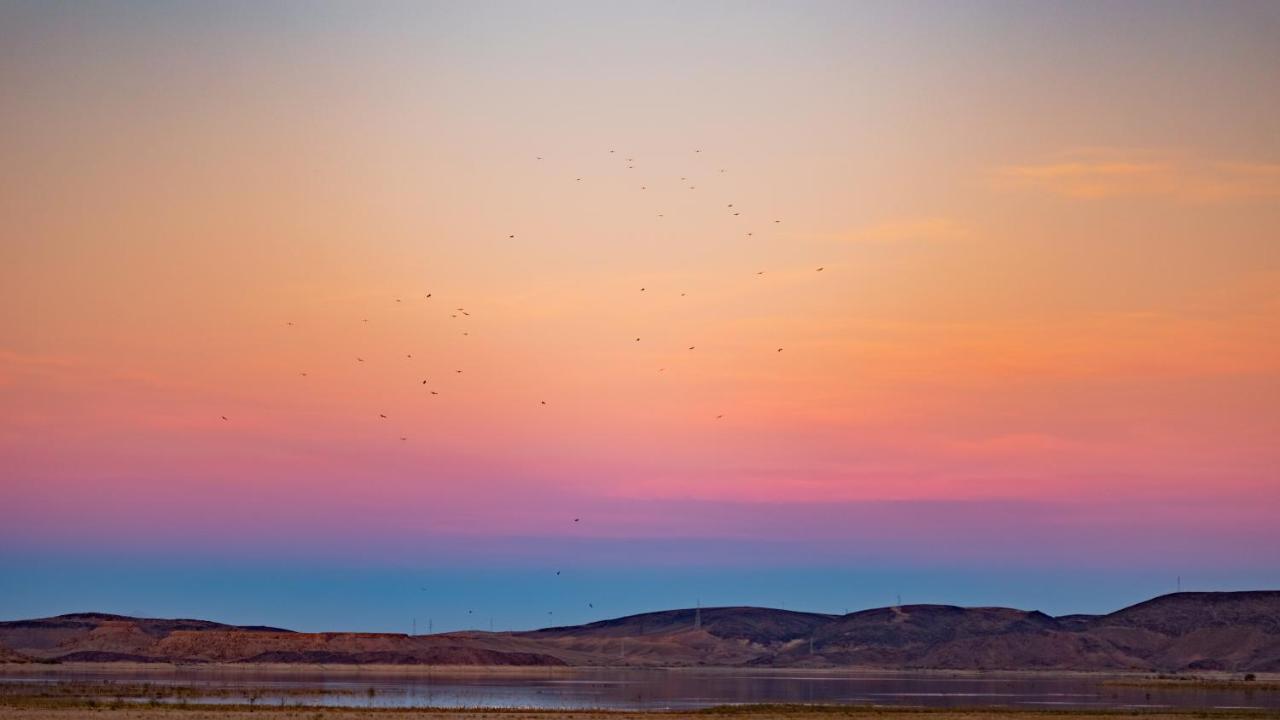 Book Your Stay At The Ecolodge In Morocco's desert
Since we stayed, the Ecolodge has added a pool! It looks brilliant and adds an authentic charm to the place.
Fancy staying in Morocco's desert? You can book your stay by <<Checking Out Prices And Availability Here>>
Add This Post To Pinterest
What else can you do in Morocco?