Everything you need to know about hiking Caminito del Rey with kids.
Caminito del what?
The Spanish language has this cute way of adding 'ito' to the end of the word to make it smaller – the object of the word that is, not the word. Camino in Spanish means path or road, Caminito therefore means little path.
The history of the walk
Built in 1901 the path was used by construction workers passing between the dam and the two power stations found at opposite ends of the El Chorro Gorge.
The walkway was created over a five year period using metal beams and concrete – which are still visible today as they're directly under the new path!
In 1925 the walk was christened by King Alfonso himself who walked the pathway to celebrate the opening of the dam and thus earning it the title of  'caminito del rey'.
At the turn of the twentieth century however civil war and dictatorship led to the demise of the hydro-electric project and it fell into disrepair.  It was later discovered by rock-climbers who made it famous and turned it into a dare-devil hike until it was banned in 2000.
---
Click here to search for flights
Click here to see how much flights to Spain would cost
---
From the most dangerous to the most safe…
The Caminito Del Rey pathway was made famous by the death of five daredevil hikers who within the same year all plummeted a three hundred foot drop to their death! It certainly wasn't a hike for the fainthearted.
The path was deemed too dangerous and its entrances were firmly blocked for fifteen years although that didn't stop trespasser hikers from attempting it and four more people died!
The accumulated death toll from this hike is unknown or undisclosed…
At a cost of millions of euros the hike was re-opened in 2015 with fortified pathways and bridges that straddle the gorges deep sides. You're even given a cask helmet at the start of the walk and told under no exceptions should you remove it.
---
Watch this video to see what it was once like
If you want to see what it was once like, watch this video from Matthew Karsten from Expert Vagabond who hiked it EIGHT times in four days to get this spectacular footage.
Please note, it is no longer like this.
---
Is Caminito Del Rey famous?
Yes, it's a very popular walk with National Geographic making it the third of  19 Thrilling Trails Guaranteed to Make Your Heart Race and Lonely Planet marking it as The world's hottest new travel experiences for 2015.
Maybe once upon a time it was incredibly scary but I certainly wouldn't mark it down as anything other than tame now.
Read on for our other thoughts on this walk.
---
Which entrance should you start from?
There are two entrance sites from the north and one from the south.
If you start from the Ardales in the north you have the choice of two tunnels to walk through. The first tunnel is approximately 200 metres long and 1.5km from the control cabin whereas the second is 2.7km from the control cabin. From Ardales you'll be walking downhill whereas starting from El Chorro in the south, you'll be walking slightly uphill.
Because of this the walk time changes from roughly two hours to two and a half hours although I would allow at least three to four hours for completion due to how busy it can be and how long you'll need to queue for.
---
How do you get there?
Car
Parking costs €2 in the official car parks however if you're there early enough you may find street parking at both sites.
North access from Ardales.
Click here to see how much a hire car in Spain would cost
Southern access from El Chorro.
Train
The station is located at the bottom of the El Chorro entrance point.
There are daily trains from Malaga, Seville and Algeciras. You can find more information and up-to-date pricing on the Renfe website.
Bus
The bus between El Chorro to Ardales leaves every thirty minutes (bus timetable) until about 19:30.  It can get very full though so I'd definitely recommend booking (see link underneath in pricing).
---
Things to know: You must book a ticket
WHAT!? Yes… because of safety regulations! This is certainly the first walk I've ever had to purchase a ticket for!
The maximum number of people allowed on the Caminito at one time is four hundred. Groups of up to fifty people are allowed through the initial control points with slots allocated every half hour. A maximum of 1,100 people per day are allowed to walk the Caminito.
Do not just turn up.
---
How much does the ticket cost?
The ticket costs are €10 + extra for the shuttle bus of €1.55. The total price for four of us to walk was €46.20.
The weekends are booked out for months in advance so book as soon as you can. We booked for a Thursday because it was the emptiest day we could find.
When booking your ticket you'll have the option to have a guided tour. I can't comment on this or offer any opinion as we didn't take it.
---
Can't Get There By Yourself? Book A Tour
---
Carry your Proof of ticket
You must take your proof of your ticket with you; either paper or digital as the tickets are scanned at the entrance. You must not forget your ticket otherwise you'll be denied entrance.
---
Kids under 8 are banned!
I was really worried by this as our youngest is seven not eight. I was warned that staff would request a copy of the child's ID so we took a chance and it paid off.
What you need to understand is that Spanish children are treated like babies! There is no reason why a five year old couldn't do this walk but the Spanish do infantise their kids and they're sticklers for following the rules.
If you have a younger, adventurous child who is used to hiking then you may find this frustrating!
---
Are there any Toilets?
There's a clean set of toilets at each end of the trail although we found there was no toilet paper. You'll need to take some of your own.
There are no toilets en-route! Nobody wants to see your arse squatting on the route so for the sake of all others, please go beforehand! Can you guess what we saw lol?
---
How about Food?
There are quite a few restaurants near both the entrances and a small kiosk selling dried fruit and nuts at Ardales.
We took sandwiches with us as we didn't hike until 11am. There a number of spots along the walk to sit and eat and enjoy the view.
You'll need to remember water too. It was only 24* here in winter and we drank 1.5 litres. If you were to do this hike during the 40* summer, I'd suspect you'd need quite a bit more as the track is not shady or covered.
---
Is this the simplest hike ever?
As I mentioned briefly above, we didn't find the walk in the least bit strenuous. I am not joking when I say it was similar to a slightly longer walk in the park. It's recommended that you have a moderate degree of fitness to complete this but I found Preikerstolen harder.
I'd been ill with a tooth abscess for a while and I'd been jacked up on some really lovely pain killers so maybe this influenced my thoughts. Who knows?
Side note we're really adventurous hikers. 
---
What did our kids think?
Our youngest two kids loved the walk and had a magnificent time peering over the edge into the valley below. They watched for wildlife over some of the cliffs and were enthralled by the vultures, of which there must have been over a hundred. For us their enthusiasm for this walk made it worthwhile.
---
Can you make Caminito de Rel harder?
If you wanted to make this a harder hike, rather than catching the bus back from El Chorro to Ardales you could re-hike the walk and turn it into a circular route. The other option would be to walk back along the road to wherever you parked, but it is 7.7km and narrow with frequent traffic including passing buses.
---
You couldn't get lost
The entire path of  is 7.7 kilometres long of which 4.8 kilometres are forest tracks and 2.9 kilometres walkways. It is impossible to get lost or fall over the side!!
The forest track is incredibly worn and well signposted and the board walkways all have high handrails. There are also a number of guides dotted along the route to prevent stupidity.
---
There Is A Glass Balcony
Maybe we've had too much adventure this year (if there is such a thing) or maybe I was just high from all the medication I took but I found even the glass balcony viewpoint tame.
You're only allowed a maximum of five people on it at one time (which is obviously sensible) and the guide stationed there is very strict about this. Due to this there's frequently a bottleneck queue at this point and it slows everybody down whilst they wait.
The transparent glass sits above much metal which obstructs the view significantly and there is actually very little to see.
---
It was busy and that was frustrating
Bearing in mind we hiked this during term time in November, I was shocked by how busy the path was and how difficult it was to find tickets.
We arrived at the same time as a coach party of college kids and there was about forty of them. They made a lot of noise, were very unfit and quite slow. It was frustrating to be often stuck behind them and waiting in a queue for them to cross the bridges whilst taking selfies etc (which have limited people numbers).
It wasn't possible to walk at our own pace but it did give us a chance to admire the view which is spectacular. You must take the time to lean over and appreciate how high you are on the cliff-side. Seeing the condition of the old path below gives some indication as to how dare-devil it was.
Garganta del Chorro Gorge
The boardwalk hugs the cliff face and has a drop of three hundred feet over the Guadalhorce River. The river is a vivid azure colour and you'll get perhaps the best view from the suspension bridge close to El Chorro.
---
Stay In A Hostel. 
Click here to see if there are any local hostels. We often stay in hostels with our kids and book out private rooms.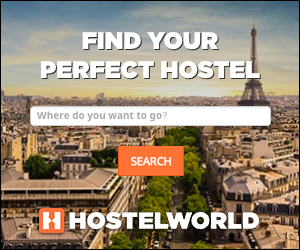 ---
The suspension bridge is fun!
The only part of the walk which could be described as remotely hair-raising was the suspension bridge which sits behind the water aqueduct and is not too short of the finish line.
The bridge sways slightly when more than four people are on it (although there is a guide there permanently to stop it from being overloaded) and it sits above a 100m drop down to where the river ends its cascade and flows into the last gulley where the old power station sits.
---
And that's nearly it…
By the time you've reached the bridge, there is only a short ascent up the wooden steps before you hit the dirt track that leads directly to the train station.
---
Top tips for walking Caminito Del Rey with kids
Book early to avoid disappointment. Don't forget to add bus tickets.
Choose your entrance.
Pack water and some snacks.
You'll need a good pair of trainers but don't worry about walking boots or poles.
Consider taking some binoculars so you can see the vultures and other birds of prey.
---
Where Could You Stay?
Use this interactive map that searches multiple platforms to find accommodation nearby. Don't forget to scroll in and out to change the location.
---
Pin this
Easy peasy to pin this to your board and read it later.
See what else Spain can inspire you with?