If you're visiting Norway with kids and looking for something a little more off the beaten track and rural, this could be the perfect spot. If you want to know how to rent a tiny cottage (more like a wooden shack) in the town of Ulvik, Norway read on for how we did it and you can too.
Where Is Ulvik?
Ulvik is located on Hardangerfjorden's north-eastern arm of Ulvikafjorden. It has a grand total of 600 permanent residents and has been around since at least the 1800s.  It's quite remote and there's only one road in and out of Ulvik. It is connected by a HUGE tunnel of 8km and the Hardanger Bridge.
Hardanger is a region famous for it's apple production. If you drive past a field in Hardanger and see something that resembles a large bus shelter, don't fear! It's just apple trees protected.
Ulvik Camping
The shack was basic but a step up from actual camping and the kids were SO excited to get a 'sleep-over' with Dad upstairs. In total, we spent three nights here and that was enough. The campsite borders the water so would be amazing if you brought canoes or rented them.  The water is definitely not warm enough to swim in but a very short paddle is doable.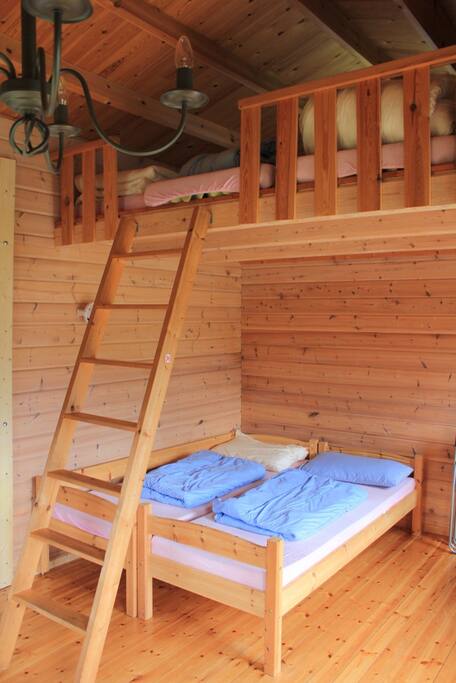 Self-Catering At Ulvik Campsite
Norway is a pretty expensive country to visit and we took heaps of food with us that we'd bought in Lidl's in France and drove up to Norway. If you're looking for some road trip ideas in Norway, please read this post.
Although the kitchen in the shack was basic, the campsite has a main kitchen with more crockery, cooking utensils as well as sinks, washing machines and ovens. Although you have to pay extra for lots of things.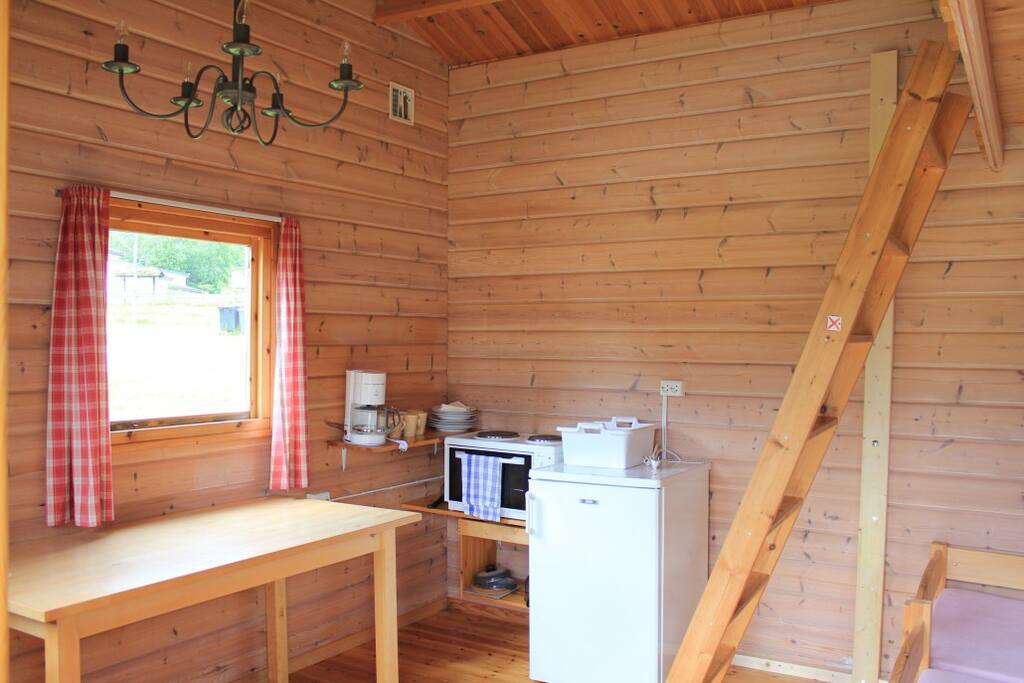 Day Time On The Waterside
During the day, Ulvik is picturesque. Lots of contrasting green fields with the clouds, the red of the buildings and of course the blue of the fjord. Did I mention the clouds? Yes, even in summer Norway's weather is unpredictable. If you're taking children to Norway, definitely take a range of layered clothing.
Our kids had a brilliant time paddling in the water, sitting by the water's edge, taking photos of the water and just generally being outside in the fresh air.
During the summer months, even though there's considerable rain and cloud, Ulvik doesn't get dark. Throughout the day the clouds roll up and down the mountains and at times visibility is reduced to a fuzz. It can give the town an eery feel but mostly it is very majestic and calming.
At night the temperature drops considerably but it never gets fully dark. We had a few problems getting our kids into bed and asleep before midnight so we taped the upstairs windows with cardboard! I'm sure it didn't look great from the outside but it did the trick.
Long Exposure Photography On Harddanger Waters
Long exposure is my favourite type of photography yet the one I do the least. Armed with my tripod, my trusty Nikon D800 and my cokin filters I hit the shoreline!
Book Your Trip To Ulvik Here
If you want to book one of these little shacks, check out the prices here.
Too Rustic For You?
Don't worry, if shack life is too rustic but you still want to visit this perfect countryside. Check out the map below for other local accommodation.
What Else Can You Do In Ulvik?
Canoe and Kayak
Paddling
Hiking
Drive right to the other end of the fjord and find the little eco-cafe
Chill out
Read your books
Visit a cider farm
Cross the bridge
Visit the national park
What Else Could You Do In Norway?