January, for those of us in the northern hemisphere, is dark, wet and generally a little bit miserable. If you're looking for a winter holiday where you can chase the sunshine in January, we list these perfect locations for those winter sun quenchers.
---
Grenada Sunshine In January
Grenada is a beautiful and paradisical island in the Southeastern Caribbean, an island often overlooked among its more famous neighbours, such as Barbados or Antigua. However, there is so much to explore as Grenada features a stunning coastline, winding roads, dense rainforest, a spectacular natural backdrop and, of course, some beautiful beaches. One of them, the Grand Anse
Beach, is still my favourite beach, even after visiting more than 200 beaches in the Caribbean.
Grand Anse has everything you expect from a picture-perfect Caribbean beach: the finest sand, calm water, gorgeous scenery, a few low-key beach bars, hardly any people, perfect sunsets and easy public access. Make sure to check it out and – if possible – stay in the area as well.
However, Grenada is not only about beaches. Grand Etang National Park is a famous site to visit, with a volcanic lake, tropical flowers, lush vegetation and a few hiking trails. The welcome stone with an amazing view over Grenada's north shore is also a place not to miss.
Besides nature and beaches, local produce is particularly important for Grenada as well. The island is also called "The Spice Isle" because of the many spices it exports, especially nutmeg. During an interesting visit to the nutmeg processing station in Gouyave, you can see this tiny but very flavourful seed. For more Grenadian products, you can head to chocolate estates and rum distilleries to learn more.
Besides all the different places you can visit, there is another thing which makes Grenada unique: its national pride and the use of their national colours. In basically every village, you can see bridges, roundabouts or bus stations completely painted in yellow, green and red, which adds to the tropical charm of the island.
When visiting Grenada, I would recommend you to rent a car if you are familiar with narrow and curvy roads and with driving on the left side. If not, you can get around with taxis (factor in some extra $$$) or public transport (factor in some extra time), which is an experience by itself. I also highly recommend having a cocktail and dinner at Umbrellas Beach Bar at Grand Anse Beach and stay in the area, for example, at Radisson Beach Resort or Bella Blue Grenada.
Grenada is a year-round destination; hence you can visit at any time. For the least rain, go between December and May. If you would like to see the island as green as you can hardly imagine, the wetter months between June and November are an option to travel as well.
Written by Chris from Punta Cana Travel Blog. See more from Chris on Facebook. 
---
Book All Your Accommodation Through This Interactive Map
Don't forget to change the parameters of your search to exclude properties you're not interested in.
---
Fly Down Under To Tasmania
Tasmania is an island and Australia's southern-most state. With spectacular scenery of rugged mountains and coastlines, pristine forests and glistening lakes, Tasmania is a delight to explore.
Tasmania also consists of several islands, including the main island of Tasmania, Bruny Island, King Island, Flinders Island and several smaller islands. Located 240 km (150 mi) from the Australian mainland, to get to Tasmania you can either fly directly to Hobart or Launceston or sail across the Bass Strait aboard the Spirit of Tasmania ferry.
Tasmania might be one of Australia's colder states, but there's no shortage of sunshine in January here. January is summertime in Tassie and daytime temperatures can be as warm as 20C in Hobart, which usually receives eight hours of sun a day. According to weather experts, Hobart receives more sunlight that other state capitals in Australia between the September and March equinox, which is when the sun moves to the southern part of the sky. Keep in mind that while summer days in Hobart may be long but it can get a bit cloudy compared to other places in Australia.   
Hobart is Australia's most southern capital, and most visitors to Tasmania usually spend a bit of time in Hobart. It's a beautiful harbor city with old-world charm and plenty of attractions. One of the most charming places in Tasmania is Salamanca Place, where you will love wandering around past old sandstone warehouses, and history lovers will also enjoy walking around historic Battery Point. Another attraction is to take a tour or climb Mount Wellington, which overlooks the city and is the place to go hiking and biking. 
Once known as Van Diemen's Land, Tasmania is full of historical places to visit and is home to Port Arthur, which is a fantastic destination to learn about Australia's history.  From Hobart, a great way to enjoy more sunshine is to hire a car and drive north along the east coast. There are many lovely beaches, beachside towns to explore along the way such as Swansea, Coles Bay, Freycinet National Park and Bicheno. You could spend a week exploring the beaches on the east coast and not get bored. 
End your trip in Tasmania's second-largest city as there are lots of things to do in Launceston to keep families occupied for several days. Launceston's most famous attraction is Cataract Gorge, which is a stunning natural gorge right in the city with hiking trails, cascades and adventure activities such as ziplining. Launceston also has many restored colonial buildings and a heritage trail. It's also not far from some of the best wine-growing regions in Tasmania. The Tamar Valley wineries can be visited as a day trip from Launceston, and it's the closest city to Cradle Mountain-Lake St Clair National Park, which is one of the most stunning wilderness regions in Tasmania. 
Written by Christina from Travel2next. See more from Christina on Pinterest. 
---
Fancy sunshine in December? Head over to Kiwi to find super cheap flights
---
Sunshine in January In Thailand
Thailand is a South-East Asian country known for tropical beaches, beautiful royal palaces, ancient ruins and Buddha statues in ornate temples.
Located just to the north of the equator, the country has hot and humid tropical weather all year round. January is a great month to visit this outlandish tropical paradise since it is one of the cooler months and the climate is more pleasant. January is during the north-eastern monsoon season so if it rains at this time of the year it's usually only for a short time.  The great thing about visiting Thailand in January is that weather-wise you can travel the whole country.
The South of Thailand is famous for spectacular tropical islands, beautiful beaches and pristine coral reefs. Southern Thailand includes the west-facing Andaman Sea coastline and the east-facing Gulf of Thailand. Diving in Thailand is some of the best in the world. In the
south, the dry season is between December and May with temperatures ranging around 25 to 32 degrees Celsius. January is a fantastic month regarding weather conditions to visit the Andaman Coast of Thailand around Phuket being one of the driest months of the year.
Phuket is a great holiday destination with wonderful limestone rock formations, clear water and amazing beaches. Diving around Koh Tao in the Gulf of Thailand is world-class. This fantastic little island filled with dive centres is the place to go if you are a scuba diver or want
to learn. It does rain in the gulf in January, but Koh Tao is still great for diving and is relatively dry.
The Thai capital, Bangkok, with its ornate shrines, vibrant street life and boat-filled network of canals is located in Central Thailand. This beautiful area has nice weather for exploring this time of the year, being relatively cool with very little rain. Temperatures range from 28-30
degrees Celsius, compare this to a humid 40 degrees Celsius in the hot season!
This is nice weather for sightseeing strolling around the vibrant streets or do day trips to the unique street markets around the city. Amphawa and Damnoen Saduak are two of the largest and most authentic floating markets and eating the fresh Thai products here is an experience not to miss for food lovers.
Northern Thailand with spectacular mountain landscapes and green tropical forests is very popular for trekking. The areas surrounding the hiking capital Chiang Mai are lovely in January. The daytime temperatures ranging from the teens to the high twenties is great for
exploring.
Campbell and Alya from Stingy Nomads. See more from them on Facebook.
---
Head To Mexico For Sunshine In January
January in Mexico is part of the dry season with great weather and one of the best months to visit the country. There is almost no rain during this time, although different regions have various temperatures, overall you can expect temperatures upwards of 24 °c.
We love the coast so we recommend that you either head to La Paz in Baja California or around Mahahual in Costa Maya. They differ because La Paz is in a sheltered cove whereas Mahahual is in the Caribbean Sea but marginally protected by the atoll of the Biosphere Reserve Banco Chinchorro.
The atoll, located in Quintana Roo, is the second-largest in the world measuring 70km long. It comprises a coral belt housing a shallow lagoon and is the second-largest barrier reef in the world. The atoll is formed by three islands Cayo Norte, Centro y Lobos. Perfect for both snorkelling and diving, there are a multitude of shipwrecks and the area is home to a wide array of fish from tiny reef fish to the enormous manatee. We recommend Mahahual Eco Tours for trips around Mahahual and the area. Victor speaks fluent English and invests his time and money back into the local eco-conservation and community education. He can take you diving, snorkelling, canoeing, bird watching or to the historical sites of the Yucatan.
The area around and to the south of Mahahual is best for avoiding the tourists, especially those that head to Playa del Carmen. The beaches to the south of Mahahual are white sandy and you might share them with a Pelican or two. You'll need to self-drive if you come to this area but you'll be rewarded with gorgeous waters, few tourists, calm and friendly locals.
If you head over to La Paz on the western coast, you'll find the protected waters of Baja California and a vibrant city with lots to do. Here we swam ethically with both whale sharks and sea-lions.  These are an absolutely phenomenal experience which you should definitely try and do. The whale shark season runs from October to May where the whale sharks come to feed on plankton and stock up their reserves.
If you fancy watching bigger whales like humpbacks you'll need to head down to Cabo San Lucas however I don't recommend staying here or spending time here. In my opinion, it has been ruined by the over-commercialisation of arrogant American tourists who refuse to speak Spanish and think their money makes them powerful. In fact, I absolutely hated it here however we saw some phenomenal whales.
So, what can you do in La Paz? The Old Town is particularly nice and is a thrown-back to when the area was rich through pearl diving. A visit to the whale museum is a good way to see how the area benefits from animals, it's small but good for kids especially. The market is a great chance to practice your Spanish and pick up locally made produce and you should absolutely walk along the Malecon; a 5km promenade along the front.
La Paz is surrounded by coastline and the excitement of this area is that it is not yet overdeveloped and there are still wild beaches to discover. Some of them are turtle nesting beaches and you can, from a safe difference, see turtle nests, discarded eggs and even hatchlings. Playa Balandra is a famous beach in the area for having a rock shaped like a whale tale at low tide. I loved hopping in the car and driving the dirt track roads around the coast to see where we could find. Can you make it round to Playa el Pulguero and will you find the beach with the lighthouse?
Approximately a 40-minute drive away, the Sierra de la Laguna offer hiking routes where you can find waterfalls and hot springs. Pack your hiking shoes and explore Canyon del Zorro (Fox Canyon) or the Aguas Calientes (Hot Water).
Head to Mexico for Sunshine in January
---
Winter Sunshine In Tanzania
Situated in the East of the continent, Tanzania is home to Africa's largest mountain, Mt Kilimanjaro and the tropical haven, Zanzibar!  You can expect many incredible experiences here from getting up close with elephants and giraffes to exploring banana plantations and markets.
Wildlife is most densely populated in Tanzania compared to other African countries and the rest of the world!  A safari should most definitely be at the top of your list when visiting Tanzania.
Manyara Lake National Park is the perfect place to kick off your trip.  It's like a tropical forest, the landscape slowly changes as you drive through to bush where you are more likely to see different animals. Instead of the typical jeep safari, at Manyara Lake National Park you get a unique view of animals on a canoe trip. You can expect to see a herd of water buffalo chilling at the water edge and the reflection of zebra drinking. Right at the edge of the park is a treetop walk which gives such a different view of the forest. The course has a total of 9 bridges and is not for the faint-hearted but great for those that love a thrilling experience.
Next on your list should be Mto Wa Mbu.  There are over 120 tribes in Tanzania! Mto Wa Mbu is one of the only places in the country where you find so many different tribes. The reason for this is because of the rich natural sources such as soil and water.  The banana plantation which is just behind the village is a great place to visit. You can learn how locals use bananas in so many different ways. Under the shade of the giant banana leaves, you get to see the different stages of the growing process.
Ngorongoro Crater (part of the Ngorongoro Conservation Area). is quite different, first of all, it's inside the crater of an inactive volcano, not to mention the land is vast and open. The drive to the top of the crater is quite a long and bumpy road but when you finally get to the viewing point of the crater, it makes it all worth it.  Looking down into the crater from above you can see animals from quite far away. The views are just stunning!
After an adventurous holiday, there is nothing better than relaxing by the beach.  Zanzibar is an island just off the coast.  It is easy to add on to your trip as it is just an internal flight.  While you can relax on the beach or even on a catamaran, you can also jump in the water and snorkel in the famous 'blue hole'.  The water is an incredible colour and the coral reef is pretty spectacular too.
Overlanding is popular in Africa. If you're interested in self-driving Tanzania be aware that the roads are through the wilderness, they are unmarked and sometimes in poor condition.  If you want to know more about self-driving head over to Road Trip Africa for more information.
Written by Karen from Travel Mad Mum. Read more from Karen on Facebook. 
Things To Do In Tanzania
---
Book A Beautiful Hostel On The Beach For Sunshine In January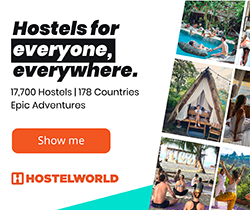 ---
See Rwanda's Lush Scenery
Rwanda is a fascinating country nestled into the western edge of eastern Africa. Though small in size, the green and hilly landscape offers plenty of adventure and education to intrepid travellers. As one of the safest and most developed countries in the region, Rwanda is a gentle introduction to sub-Saharan Africa or a relaxing trip for more seasoned travellers. There is enough tourism infrastructure to support independent travel yet the country still feels satisfyingly off-the-beaten-path.
The transportation network is relatively well developed in Rwanda. Comfortable buses ply paved highways, and minivans and motorbike taxis serve local routes. Motorbike taxi drivers are even required to provide helmets to their passengers. Other progressive practices like a ban on plastic bags and community workdays keep the streets clean. Visitors are often welcomed with reserved politeness but be the first to smile or wave and the gesture will be returned.
To understand Rwanda, you'll need to know that things haven't always been as they are. The country suffered through a genocide and civil war in 1994 during which hundreds of thousands of people were killed, often by their own neighbours. Since then the country has been led to recovery – its economic growth is currently the second-fastest in Africa and ethnic groups coexist peacefully – by a man generally considered to be a benevolent dictator. Reality is complex though and visitors will be lucky to catch any glimpse of clarity on these matters from typically reserved Rwandans.
As a visitor, you'll mostly be focused on Rwanda's lovely scenery and opportunities for outdoor exploration. The moderate climate is reasonable year-round, but rainy season (March to May, and again in October to December) brings impressive thunderstorms and muddy roads. English is technically the official language, but the reality is a utilitarian blend of French, English, and Kinyarwanda; you can make do with smiles and gestures if needed.
It makes sense to start and end your visit in the capital of Kigali unless you'll be connecting overland to a neighbouring country. From there, head to the western region where most of Rwanda's outstanding outdoor adventures await.
Kigali is the capital city and unlike anywhere else in Rwanda. I recommend that you spend a few days wandering the hilly streets and exploring markets, galleries and restaurants. A visit to the Genocide Memorial, though sombre, gives insight into the memories of many Rwandans you'll meet, and is a chilling reminder of the destructive powers of ethnic division.
The rugged Virunga Mountains (Volcanoes National Park) along the northwest corner of Rwanda are home to the rare and famous mountain gorillas, a must-experience for anyone whose budget can afford the hefty price. While you're in this area, several dormant volcanoes offer scenic hikes from a few hours to several days. Mount Bisoke is the easiest and can be done in half a day, while Mount Karisimbi is the tallest and takes at least two days.
Lake Kivu stretches along Rwanda's western border, the DR of Congo sometimes visible just across the water. The picturesque scenery and lakeside towns are great for kayaking, visiting coffee plantations, or just relaxing with a cold beer, fresh bananas, and local beignets. For those who enjoy self-powered transport, the Congo Nile Trail is an unmissable hiking or biking adventure through dirt roads and small communities bordering Lake Kivu. You can tackle it independently and even solo if you like, finding friendly guesthouses and food stalls along the way, or hire a local guide.
However you explore the scenic beauty, rare wildlife and enigmatic culture of Rwanda, the journey is sure to be memorable and thought-provoking.
Written by Alissa from Exploring Wild. See more from Alissa on Facebook.
Things to do in Rwanda
---
Catch Those Sunshine Rays In Colombia
Known as Colombia's picturesque "white city," Popayán is still off the radar of many tourists despite all this small city and the surrounding countryside has to offer. If you're looking to experience some of Colombia's off the beaten path gems, add Popayán to your list.
With around 300,000 people, Popayán is busy and vibrant, but without the overwhelming hustle and bustle of the nation's larger cities like Medellin and Bogotá. While much smaller, there is still plenty to do in the way of activities and attractions, making it a perfect place to encounter Colombia's mountainous Andean region and all it has to offer. Popayán is also an inexpensive city to visit, even by Colombian standards – you can find an entire apartment for rent on Airbnb for around $20 a night by using a few top tips for Airbnb guests.
Popayán is known as Colombia's white city for its beautiful and sprawling historic centre, filled with whitewashed colonial buildings, making it a totally unique and picturesque city to visit. Popayán is also known for having the highest per capita concentration of churches in any city in Colombia, boasting some of the country's most beautiful colonial architecture. Located in the Andes, the mountains surrounding the city also hold some incredible, hidden vantage points over the city. Take a visit just outside of town to the Capilla de Belén chapel for a view over the city, with its church domes dotting the skyline.
Honoured as a UNESCO Creative City of Gastronomy, the city is also a retreat for those looking for unique and traditional Colombia cuisine. More than just traditional arepas, Popayán's standout local dishes include carantantas (corn fritters), tamales y empanadas de pipián (potato and peanut tamales and empanadas), and a wide variety of traditional soups and sauces that use the region's vast variety of fruits and vegetables. While plenty of restaurants throughout the city serve these traditional dishes, the best way to see and try the best local dishes is by taking a "tour" of the food stalls in the market.
For a proper indigenous market experience, make the visit on Tuesday morning to the Silvia market about an hour and a half outside of Popayán into the countryside – for your journey, you'll be rewarded with an incredible market experience with mounds of fresh fruit and vegetables from the nearby farms, textiles, housewares, and delicious prepared foods traditional to the area. This is as local and off the beaten path of an experience as you'll find in Colombia and a fantastic half-day excursion.
Located in the Cauca region in the southern part of the country, Popayán also sits in Colombia's famed Coffee Triangle coffee-producing regions, in the Valle del Cauca – the Cauca Valley. Much of Colombia's very best coffee is for export, unfortunately, but head to Togoima Café Ancestral in Popayán's historic centre to try some locally produced coffee. The café's baristas prepare local beans using the highest quality methods and offer a variety of coffee drinks for every palate. For the true coffee lover, a visit to Popayán wouldn't be complete without a visit to one of the nearby coffee plantations – many family farms in the area offer tours that allow you to get hands-on in roasting coffee beans, and taste test your handiwork. 
Written by Carley Rojas Avila from Home to Havana. See more from Carley on Instagram. 
Click Here To See Things To Do In Colombia
---
Self-Drive Sunny Oman
Often unjustifiably overlooked and overshadowed, Oman is a true hidden gem offering amazing adventures, less touristy magical places between the sea, mountains and deserts.
If you have around three weeks time you can include Oman´s wild south into your itinerary, while with one to two weeks it is better to stick to the northern part. You still get to visit most of the interesting sights.
As public transportation is not all that great outside Muscat, your best option is renting a car, for ultimate freedom of exploring I suggest it is a 4WD one. Wild camping is legal throughout the country and you can pitch your tent on any public land which makes Oman one of the best and affordable destinations for everyone who enjoys nature and off the beaten track places.
Muscat, the largest city and the bustling capital of Oman, is where you will most likely start your journey since this is where the international airport is located. Protected by the Western Hajar mountains on one side and surrounded by the sea on the other side, Muscat is an interesting mix of traditional and modern life, architecture and lifestyle. Spending the first couple of days here is a great introduction to the country before you set off exploring the rest of it.
Just a short drive from the capital you find yourselves in the arms of the mountains, roaming between forgotten laid back villages and barren landscapes. Make sure you stop at Nizwa, Bahla, Jibreen and Al Hamra before the adventurous drive around the rim and hiking the impressive Wadi Ghul canyon close to Oman´s highest peak Jebel Shams. There are some amazing camping spots at the top of the canyon, for the best sunrise views.
Arriving in the desert area of the Wahiba Sands, you can test your driving skills on the golden sand dunes while meeting friendly Bedouins and experiencing the cold nights under the stars while sitting around open fire. For those who are not into wild camping and seek more comfort, there are also some luxury desert camps options as well. From here you can turn towards the coast and stop by some of the country's major attractions, the Wadis.
These are dry valleys which fill up with fresh water after the rainy season, creating refreshing pools and streams perfect for swimming and relaxing. Driving through the Wadis can be an adventure on its own, just make sure to check the weather conditions and do not venture off directly after heavy rains due to safety reasons. Some of the most known ones are Wadi Shab, Wadi Bani al Khalid, Wadi Tiwi.
Oman´s coastline is pretty wild and untouched, there are not many resorts and large hotels outside Muscat, so it is perfect for everyone who loves some privacy and off-road driving. If you are visiting between April and August you can watch turtle nesting and hatching in Ras Al-Jinz.
Besides exploring endless sandy beaches there are also quite a few authentic coastal villages and towns to stop at on the way back up to Muscat.
Written by Katja from Places and Notes. See more from Katja on Instagram.
What Tours Could You Book In Oman?
---
Find Other Accommodation With This Interactive Map
---
Add This Post To Pinterest
Use this image to save this post to your Pinterest. 
---
Sunshine In…Relevant Posts
Sunshine in January is part of a series that we're compiling about where to find the best sunshine in certain months.
See the other posts here